It was a dark cold evening in November and the clocks were striking 21. Time was ticking and the pitches needed to be delivered. Then from almost nowhere came the suggestion. What about a virtual graffiti wall? Wouldn't that be a really cool thing to build? The idea was  presented by the team, but no-one knew a thing about Augmented Reality. We couldn't build this in a weekend, could we?
This was the reality on the evening of the 24th of November at the Basingstoke Hackathon 2017. Organised by Basingstoke Tech Scene, hosted by DeskLodge at their new offices and supported by Basingstoke and Deane Council via the EU Tech Towns project, this was a true community collaboration. Over 40 people came together across one weekend for lots of hard work and plenty of fun. Their mission was to build!
Team 'Virtual Basingstoke' as we named ourselves were four people with very different backgrounds and skills. We hadn't met each other before that evening, but we decided to pitch an idea and run with it. That idea was for a virtual community art wall using Augmented Reality (AR). In our day jobs we were malware analysts, financial actuaries and technologists. Could we bring those skills together to build something over the course of 48 hours? What did we know about AR? Nothing it turned out, but that was about to change.
For those people who have never experienced a Hackathon this may all seem odd, strangers committing to building things with tech they don't know anything about. But in a nutshell, that is what this type of event is all about. People coming together to work on solving a problem for the benefit of a business, the community or society as a whole. So what problem were we looking to solve? When we discussed the challenge put to us we found it contained a series of problems. The availability of shared spaces for art, the problem of graffiti in the real world, the ability for community groups to signpost their events or even the placement of signage in a conservation area. All of these could be addressed by an implementation of Augmented Reality technology.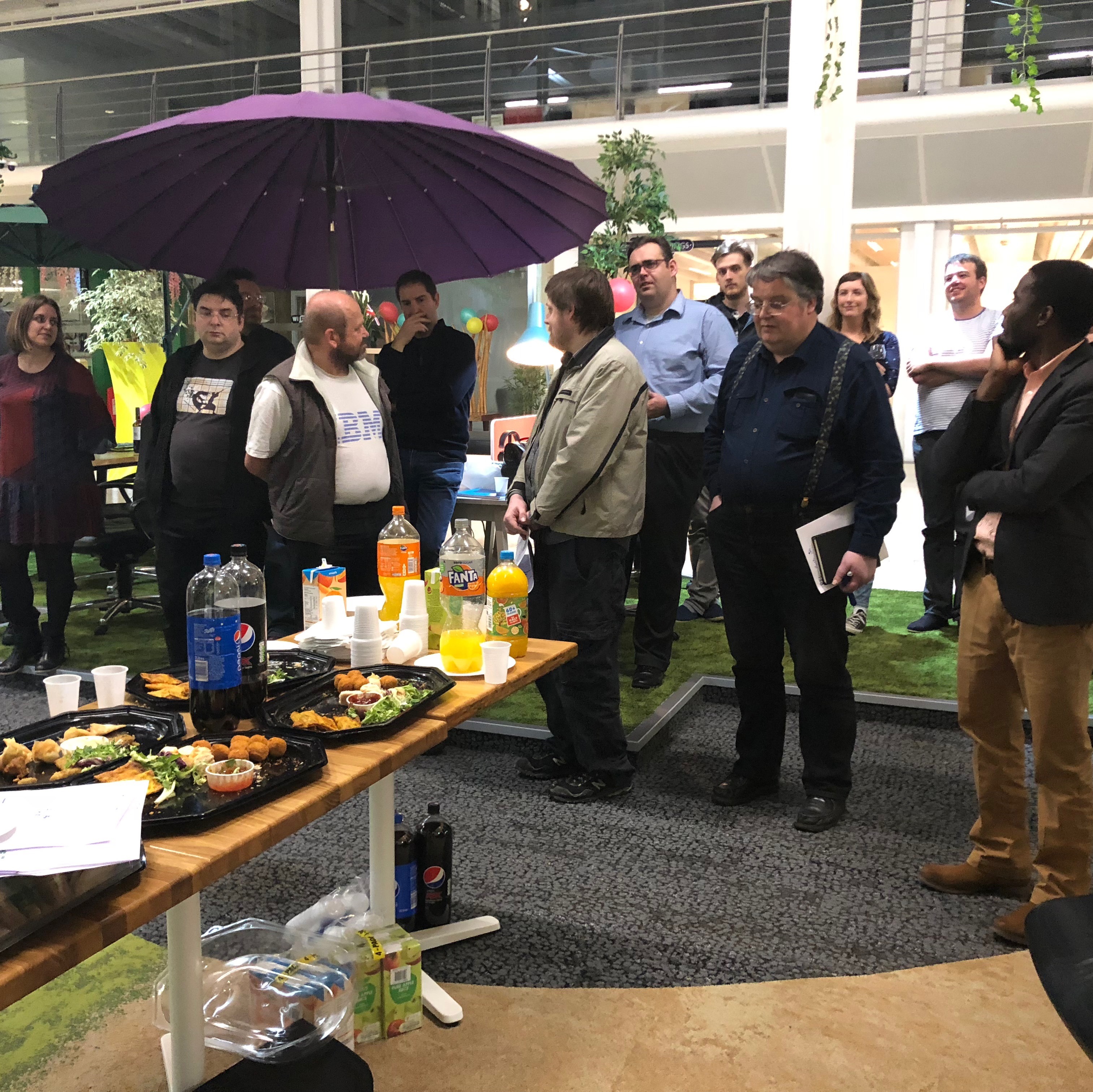 A Hackathon isn't about developing a finished product, nor is it about winning at any cost. It's about learning, exploring the possible, developing new skills, experimenting, broadening horizons and having fun. After all we were giving up our weekend for this, so it definitely needed to be fun! And it was. The spirit of the participants, the challenge of the build and the hospitality of our hosts made this a great way to spend a weekend.
Another important aspect of an event like this is that while we each built in our own teams, we could ask for help from others. As a result we had a range of skills at our disposal, from mainframe programmers to radio engineers to business analysts and everything in between. So interspersed in the build process were conversations about the computers on the Apollo moon lander, 3rd normal form, the use of blockchain by antiques dealers and how to get started in the tech industry. A completely normal mix of conversation for a Hackathon!
But what about our project I hear you say! It was tough, but in the end it was very successful. We ran into challenges and dead ends, we learned why vertical plane detection was difficult. We played with websockets, we built nginx reverse proxies, we wrote python code. But we also built an iOS App using Apple's ARKit and used AR.js to create a browser based Augmented Reality experience. By placing AR markers around the DeskLodge offices we created adverts for local businesses and a shared graffiti wall allowing people to collaborate on community art. Not bad for 48 hours!
We'll publish more details of the whole technology stack in a future article but if you'd like to take a look at the browser based component take a look in our project Github repo.
On Sunday afternoon the teams all came back together to present the results of their projects. The group then voted on their favourite project and everyone on our team was thrilled that 'Virtual Basingstoke' was selected as the winner in this category. However, the presentations were also judged for community impact by Alison of DeskLodge and Councillor Hannah Golding of Basingstoke and Deane Council. They agreed with the view of our team that the winners were 'Team Awesome', pictured here. In the 48 hours they successfully developed an integrated technology solution for the Basingstoke Makerspace. In doing so they solved a real-world problem being faced by this fabulous community venue. To add to the excitement they also developed an extension to their project that could make a real difference to the lives of people living with dementia.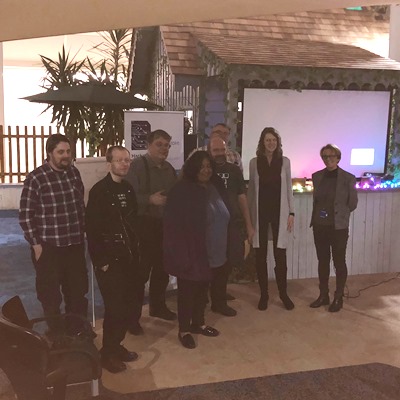 Team Awesome's solution included an RFID based door access control system and music player that selected tracks based of the personal preferences of those present in the room. However, they also came up with the idea of using their technology to create another tool. This was an application that used their technology to curate content that could be played to dementia sufferers. By selecting years of significance to the audience they would be able to provide music and facts that would trigger memories. People with dementia find it easier to recall events than happened longer ago than they do with those that happened more recently, so triggering long standing memories is important.
Reminiscence is the technique of stimulating these memories, providing confidence and comfort to those affected. Everyone at the event immediately saw how Team Awesome's application could bring huge benefits to the lives of people within the Basingstoke community, and far beyond. Their prize was therefore well deserved and we're hoping that work continues on their technology so that others can benefit from real-world applications of it.
Do you think that it isn't possible to change the world for the better in a single weekend? If so, you should come along to the next Basingstoke Hackathon as we're certain that it will change your mind!