Case Study: Project CERTES
Our Project CERTES activity is a 90 minute "pop-up escape game" that was designed for young people but can be played by anyone. In the game up to 60 players are initially divided into teams and are provided with an initial puzzle to get brains in gear and everyone engaged. Then just as the players think they know what they are doing they are interrupted by an important incoming video transmission. This is from a senior official who has news of an emergency situation that requires immediate action. As the situation becomes clearer, all of the teams can now fully understand what is expected of them.
There are many outcomes that the activity can deliver, one highly successful one is as an icebreaker for a large group who have never met before. The content of the puzzles is specifically designed to engage and entertain the players while challenging them and giving them a purpose to learning more about themselves and their teammates.
The learning outcomes from the activity have varied each time it has been run, with players being inspired to consider a career in a STEM related role through to simply understanding that in a large team it's fine not to know everything that everyone else is doing. For young people who are used to the rules and requirements placed on them in formal education it is also an opportunity to exercise creativity of thinking and solve problems in new and exciting ways as is discussed in more detail within this article.
The Project CERTES activity has been specifically designed in a modular manner, so that alternative puzzles and challenges can be easily inserted into the activity. This creates a large degree of flexibility in how the activity can be delivered and what the key outcomes of it are. This means that the activity can benefit groups of any size and of all ages and abilities.
Key Facts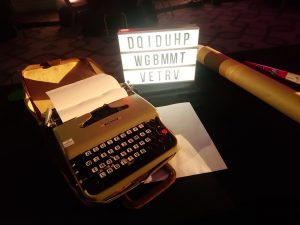 Participants: 40-60
Duration: 90 minutes
Ages: 12 and up
Venue: Various including hotels and events spaces
Learning Outcomes: Team collaboration, engaging and inspiring future career choices, developing understanding of skills needed in cybersecurity careers, problem solving skills
We use our proven methodology to create tailored immersive learning experiences for your team. These experiences are developed around the specific learning and development needs of your business.  We can work with groups of any size and the experiences can be designed to fit with your budget, timescales and requirements. Find out more about our methodology and approach and browse our case studies.
Our ENIGMA events are the ultimate immersive training experiences for your team. Custom built around complex and interlinked learning outcomes they provide a safe space for key business skills to be developed and exercised. Combining theatrics, characters, technology and challenges within a storyline that engages, entertains and educates in equal measures. You can read more about it in our case study.
Our Robotacular events are a fun yet competitive experience for all those taking part. A number of small teams get to design, build and then battle their own robot in the fighting arena. The experience tests collaboration within teams, leadership, strategy and skill. This results in a thrilling finale to the event as the teams fight it out in the arena to earn the winner's crown. You can read more about it in our case study.