SCOOT3 is our action packed collaborative strategy game that combines table-top planning with computer generated action. Designed to be played by groups of between 6 and 20 players at a time it can be used as part of a larger event or as a free-standing activity. It is also possible to play two games simultaneously allowing the groups to compete against each other. The activity includes a narrative to drive engagement with the game and is facilitated by the "operator" of the SCOOT3 Supercomputer, who ensures the decisions of the group are executed correctly.
At the start of the game the players are introduced to the concept and storyline, and their roles during the gameplay. It begins with an observation phase where the players need to work together to piece together the problem space and devise an initial strategy. They then work in their team, with support from the "operator", to define the tactics they will use. Then the game plays out based on the decisions they have made, with the opportunity to alter their tactics if the results they encounter weren't the ones they expected.
The format and complexity of the game can be varied to fit with the required learning outcomes, time available and group size. The learning outcomes for the game centre on communication within a team, exploring key skills such as leadership and resource management. However, the game also challenges the group's attention to detail, how they work to find creative solutions to problems and gives them the opportunity to make key decisions under pressure.
In the current iteration of the game there is a well-defined storyline and theme to the game; however, customisation of these aspects is possible if required. As a result the game can be integrated seamlessly into a variety of events and other learning and development activities.
Key Facts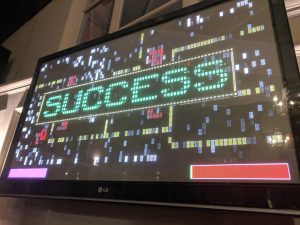 Participants: 6-20
Duration: 2-4 hours
Ages: 12 and up
Venue: Meeting, conference or events space
Learning Outcomes: Team collaboration, strategic thinking, critical thinking under pressure, tactical decision making, observation and communication.
We use our proven methodology to create tailored immersive learning experiences for your team. These experiences are developed around the specific learning and development needs of your business.  We can work with groups of any size and the experiences can be designed to fit with your budget, timescales and requirements. Find out more about our methodology and approach and browse our many case studies.
Our Project CERTES activity is designed to be run for groups of up to 60 players at a time. Its primary objective is to inspire people from diverse backgrounds to explore and learn more about an unfamiliar topic. It also highlights the benefits of team working across a competitive industry and focuses on developing problem solving skills in a fun and engaging way. You can read more about it in our case study.
Our ENIGMA events are the ultimate immersive training experiences for your team. They are custom built around complex and interlinked learning outcomes that create a safe space for key business skills to be developed and exercised. Combining theatrics, characters, technology and challenges that engages, entertains and educates in equal measures. You can read more about it in our case study.